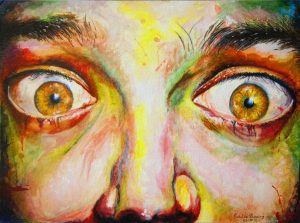 Panic Art is the extension of Natzuki Otani and it is the completely new form of art that you have not seen before! Though some earlier his works could resemble of this class, the new works are completely off-the-hook! If you miss panic art, then do not worry – you will be able to enjoy in some of the most abstract arts!
The panic art conception is started as a way of abstract art, where the point is to create an illustration/drawing inspired by a panic attack or the sudden fear you have felt. Therefore, each piece of art is unique and different, inspired by the moment of fear, which is captured by the skills and presented on the paper. The concept is new, as no one ever before made something similar.
Since this is his website, Natsuki encourages people to participate in this art form and send their examples of panic art. The best works will be presented on the upcoming exhibition in August and will have a chance to donate money to children but also earn a few bucks. He wants to take this form of art onto the new level and there is no better way than to engage other people in creating this art!